Late shoppers lose out on rare condo townhouse in downtown Toronto
140 Bathurst St., Th9, Toronto
Asking price: $1,025,000
Selling price: $1,025,000
Taxes: $3,340 (2018)
Days on the market: One
Listing agent: Christopher Bibby, Re/Max Hallmark Bibby Group Realty
The action
Buyers who planned to tour this three-storey townhouse at a public open house in October lost that opportunity as an offer was tabled following more than a dozen showings and an agents-only open house.
"In that downtown area, especially that close to the core, there aren't many townhouse condominium options. Everything is either high-rise or low-rise," agent Christopher Bibby said. "So there's quite a demand for freehold alternatives."
What they got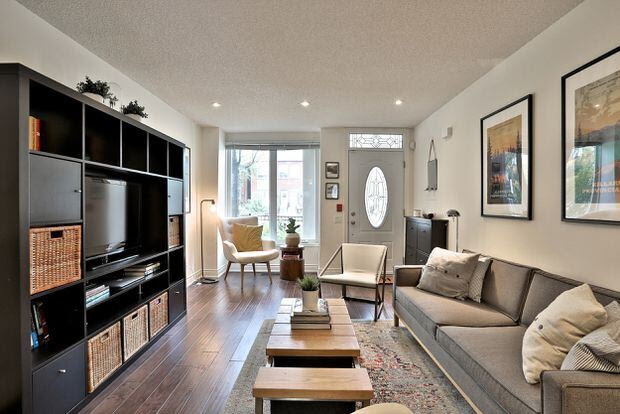 Several townhouses flank an 18-year-old mid-rise, including this 1,376-square-foot unit with an entrance off a private gated garden and direct access to parking in an underground garage via the basement.
Past the living and dining area is a rear kitchen with hardwood floors, stainless steel appliances and sliding doors to a terrace.
A balcony and ensuite bathroom are special features in the largest of three bedrooms upstairs.
Monthly fees of $690 cover utilities, as well as use of fitness and recreation rooms.
The agent's take
"For a lot of younger families working in the Financial District, this is great option for them because it has three bedrooms, three bathrooms, parking, a terrace and a backyard," Mr. Bibby said. "And the maintenance fees are quite reasonable given that it's a condo and hydro was included."
Buyers also liked that this townhouse appears independent of the adjacent mid-rise. "They just look like separate homes from the condo complex, which is interesting, as opposed to some townhouses that are at the base or grade level of a condo building," Mr. Bibby said.
"[Plus] you drive into the parking garage for the building, but walk right into your unit, so that's super convenient and extremely rare."
Your house is your most valuable asset. We have a weekly
Real Estate newsletter
to help you stay on top of news on the housing market, mortgages, the latest closings and more. Sign up today.
According to Urbanation, a firm that studies Toronto's condo market, there were 58,659 condo apartment units under construction at the end of last year in the Toronto region, but it expects about 19,000 will be completed this year due to resource constraints, weather and other delays. A lower number would lessen concerns about overbuilding, that would drive prices lower.
"We recognize that it creates certain vulnerabilities for the market should demand unexpectedly fall," Urbanation said in a recent report on its website. "However we also don't believe it should be used as the main basis for projecting a decline in condo prices."
"The number of new units scheduled to be completed in the GTA over the next two years is striking at a time when new condo sales are dwindling," TD says, noting that high-rise condo buildings have accounted for 60 per cent of supply of overall new homes in the GTA since 2011. That compares to 28 per cent in 2000. -- 2014 April 2 Yahoo!
Mid-rise Buildings Challenge Developers & City
"We call it the Oreo cookie problem," Mr. Mallins added. "The problem is that there are so many fixed costs in any given building, from the mechanical systems on the roof and all the design and infrastructure costs at the bottom. But we have to make our money from the residential floors in the middle, whether you have 10 floors or 50."
Despite those economic challenges, Ms. Keesmaat is promoting mid-rise development as a people-friendly solution that the city believes can house about half of the 500,000 new inhabitants the city is expecting by 2031.
"It is an important part of building sustainable neighbourhoods along streets that in many cases are underutilized," she said. "It gently inserts more density and allows retail to flourish which benefits all residents in the neighbourhood."
If the strategy continues to be embraced by buyers and developers, it also means that a considerable amount of new retail and commercial space is going to be available in mid-rises.
Cities such as Paris and Barcelona have high population densities comparable to that of Toronto's downtown high-rise district even though they rely on mid-rises rather than towers, Ms. Keesmaat said.
Mid-rise complements public transit and makes more efficient use of the city's existing sewer and water infrastructure. City guidelines encourage the use of stepped setbacks on higher floors to open up streets to sunlight and create more people-friendly neighbourhoods than the concrete-and-glass canyons that cast shadows across downtown.
Toronto approved the avenues and mid-rise study in 2010, which contains policies that are now guiding mid-rise development.
Date: Tuesday, January 21, 2014
http://www.theglobeandmail.com/report-on-business/industry-news/property-report/mid-rise-buildings-challenge-toronto-developers-city/article16410177/